■DownhillCyclying_tour(include lunch)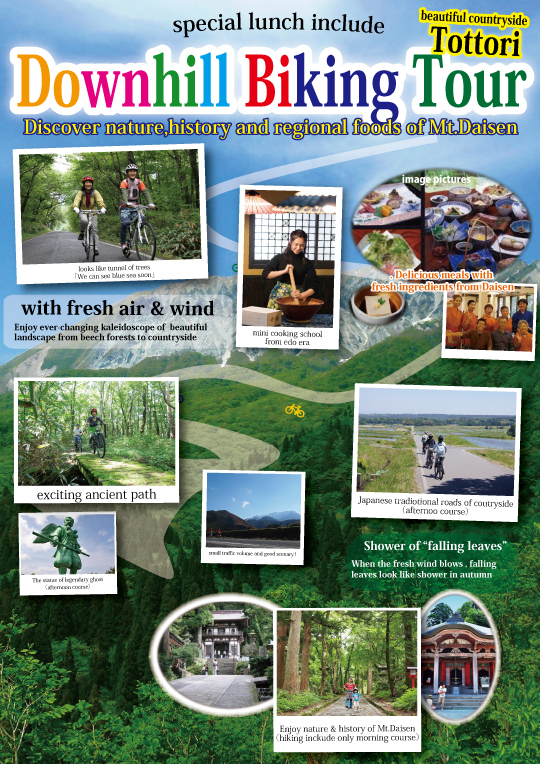 Enjoy ever-changing kaleidoscope of beautiful landscape from beech forests to coutryside traditional town. Experienced guide will take you to hidden gems. Lunch also include. Using the freshest local produce and ingredients, the skilled chefs at Toyama ryokan are proud to serve you.

We serve bikes produced by GIANT most biggest bike company in the world
   ■For adults GIANT ESCAPE R-3、GIANT ROCK(マウンテンバイク)
   ■For junior GIANT XTC 24、SNAP20

Feature of our two courses

morning course  ancient road with MTB & beech forest hiking
 Throughout cyclying and hiking, you can easily enjoy both of nature and history of Mt.Daisen.You try to cyclying on ancient road which many people used to go to Daisen temple to worship in the deep forest. Your tour continues on to the tranquil forests of Mt. Daisen National Park where you'll witness the majesty of native tree species such as giant Japanese Cedar and Beech (Buna). Mt. Daisen in the Chugoku region has long been the object of worship as a sacred mountain since ancient times. During the hike you will tour power spots and sacred places, and spend some quiet time in these beautiful spiritual places.

 after bike riding for 1 hours and hiiking for 1 hours, you can enjoy special lunch time include mini cooking school at Toyama-Ryokan.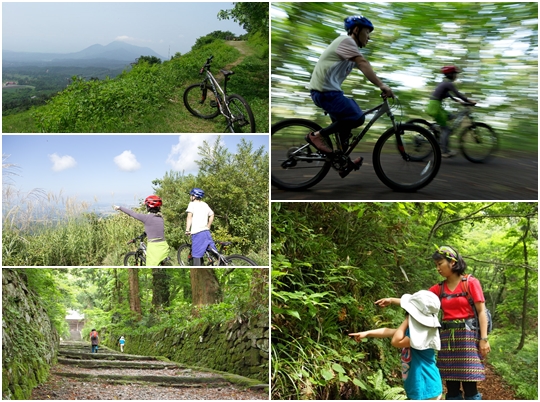 afternoon course exciting ride at ancient road & easy ride through old-fashioned villages
 It is useful for foreigner come from distant place because tour start late morning.At first you try to mini cooking school and enjoy lunch time at Toyama-Ryokan then cyclying tour start.You can enjoy various road of countryside of Mt.Daisen. you can try neverending ancient road with no artificial structure in the deep forest, and can see beautiful rice field., old structures, friendly ocal people.in Daisen Town.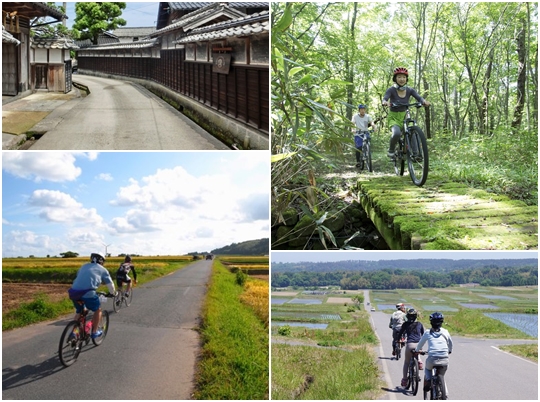 MEAL INFORMATION
"mini-cooking scool & Tottori's regional food and beverages
The founder of the Toyama Ryokan was a monk, and it started as the only approved tofu shop on Daisen at the time. The tofu shop began in the Edo era, and the lodging facility started in the Meiji era to comfort the visitors to Daisenji.Delicious meals with fresh ingredients from Daisen are offered.Carefully prepared sesame tofu, passed down from the Edo era, is an exquisite dish. Its smooth texture and sesame aroma are delicious. You can try to a part of making original tofu !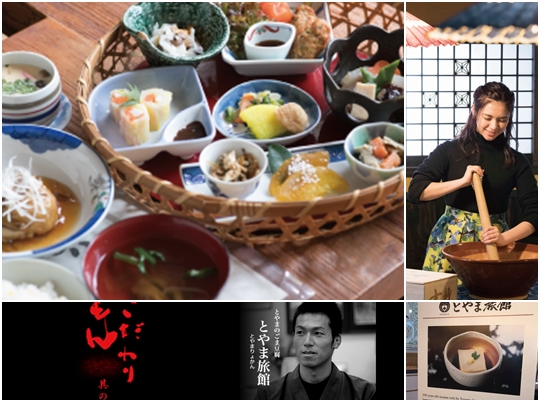 ・tour include rent bike, helmet, guide services,lunch,insurance
 We strongly reccomend you to take out overseas insurance.


Guidance

schedule

From April to Novenber except 4/27 to 5/6


start at

■morining course 09:00(at Toyama Ryokan)〜briefing〜transport to start point by our shuttle(15min)〜start biking(1 hour)&hiking(1hour)〜mini cooking school and lunch time(1.5 hour)〜 finish at 13:00(at Toyama-Ryokan)

■afternoon course 11:30(at Toyama Ryokan)〜briefing〜mini cooking school and lunch time(1.5 hour)〜start biking(2 hour)〜pick up and back to Toyama-Ryokan(15min)〜 finish at 15:30(at Toyama-Ryokan)


equipments
bike,helmet
belongings


■Wind deflector required
sometimes cold even if summer season and to protect your skins by falling down.

■Please prepare gloves if you can
to protect your hands, and to protect from cold wind. even if cotton work gloves is ok.

■Others
drinks(you can buy at visitorcenter) sunglass、towel、rainwear are needed in your small backpack


Q&A
Q1:Can I cancel my reservation in case of bad weather for example?
A1:Sure. please tell or e-mail when you want to change or cancel.
  ⇒phone 0859(53)8036

Q2:I bring my bike.
A2:You can join ther tour by your own bike.

Q3:What kind of bikes?
A3:almost made by GIANT
GIANT ESCAPE R-3、XTC 24(junior)、SNAP20(junior)
We sometime use MTB also made by GIANT.

Q4:Can we join with kids and grandmother?
A4:Over 125cm tall needed. senior is OK.

Q5:How about detailes of insurance?
A5:
ambulatory 1500 per day /hospitalization 3000 per day / death or physical impediment 2 million / obligation to pay reparations 1 Hundred million per accident


minimum runnning
2 perason
※ if you are alone please tell us.

rules
rules of tour
please check and agree with our rules before you make reservation

cost
11,500 Yen (include insurance , tax)

reservation

Please make inquiries or reservation by noon 3 days before as below





森の国
 [営業時間 9:00〜17:30]
〒689-3319 鳥取県西伯郡大山町赤松634(大山観光道路沿い 県道24号線沿い)
TEL 0859-53-8036 FAX 0859-53-8004 
お問い合わせフォーム
キャンセルについて